Introduction
July 1, 2018
The Pacific Field Corn Association has hired a summer student to conduct vital pest and crop research to support Fraser Valley forage producers.
Emily is currently in her third year of the Agriculture Technology program at the University of the Fraser Valley. Growing up in a large farming community, Emily found the agriculture industry highly intriguing. In her final year of high school Emily worked on a dairy farm and really enjoyed it.
With a passion for cattle and the agriculture industry as a whole, Emily is very excited for the opportunity to work with the Pacific Forage Corn Association as a summer student. Throughout the summer Emily will be monitoring  army worm and corn root worm populations in forage fields around the Fraser valley, as well conducting a weed survey in these forage crops to monitor for crop competition.
Throughout the remaining weeks of summer Emily will be posting weekly field findings on this page.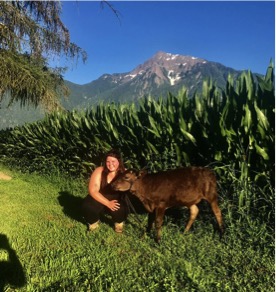 July 31, 2018 – Corn root worm traps have been set up around the Fraser valley to monitor population numbers of both males and females.  Be sure to check corn fields for this pest.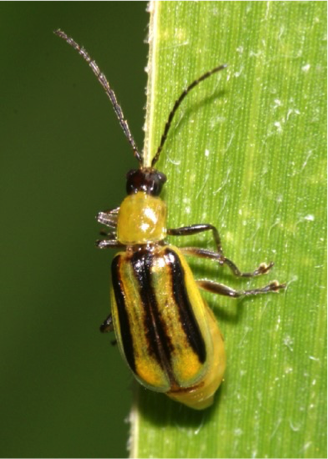 August 7, 2018 – Over the past few months traps have been set up in a few dairy barns around the Fraser valley. These traps produce a light which attracts the flies and contains a fan to draw them into a container where they are collected. The purpose of these traps is to see the Fraser valley has a specific biting fly that can vector blue tongue disease which can affect cattle and sheep. Although the Fraser valley doesn't have the pathogen that causes blue tongue it is an important to know if there is a chance of potential outbreak if we do get the pathogen. Taking precautionary measures for monitoring pests that can vector disease can potentially reduce the chances of out breaks.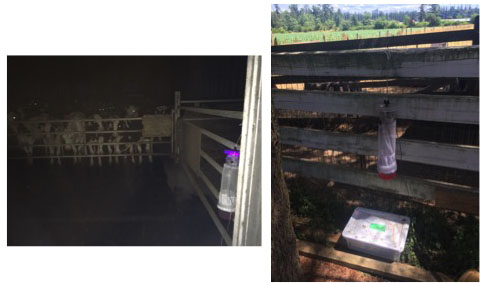 August 31, 2018
As the forage season slowly comes to an end so do high level if pests. Corn root worm females are getting ready to start reproducing and laying eggs in the soil. These eggs will overwinter and be the start of next years populations. To prevent large populations in crops the following year, rotating crops or even switching varieties can help. Monitoring this years population was done to predict what next season would be like. All traps have been removed as some fields have began to harvest. During the monitoring season things such as weather conditions and temperature was seen to impact the numbers of specimens found. It is unclear if there is a connection at all.