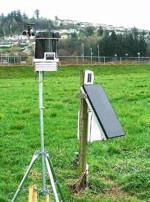 The website, Farmwest.com, provides climate information to farmers and irrigators in British Columbia. Climate information features evapotranspiration (ET) for irrigation scheduling, as well as corn heat units (CHU), growing degree days, T-Sum, a temperature monitor and even the weather forecast. The site is updated daily to provide the most current information possible. In 2001, we started with 42 automated climate stations where climate information were provided by Environment Canada for agricultural and irrigated areas across B.C. Since then, 11 stations were added in the Lower Mainland with data provided by the Metro Vancouver; 20 stations were added with a weather station network in the Okanagan provided by Growers Supply Co. Ltd.; and 18 other stand-alone stations have also been added using cell and satellite transmission (mostly in Southwest Interior). The topography of British Columbia creates many micro-climates. Many climate stations are necessary to improve coverage and provide accurate and up-to-date information to local irrigators. Is your location adequately covered by one of our weather stations? If not, you can now change this, for yourself and your community.
Farmwest.com is constant working with British Columbia Ministry of Agriculture (AGRI) and Agriculture and Agri-Food Canada (AAFC) has developed a system for feeding data to the website from stand-alone stations. A pilot climate station is currently set up at the Abbotsford Agriculture Center (Figure 1).
Anyone can now become a meteorologist! To find out how, please read on.
Why Install a 'Farmwest.com" Climate Station
A climate station can be a significant investment, but having real-time climate data from the immediate area can be a huge benefit and pay for itself in increased production and water savings. Climate data can help you decide:
When/ how much to irrigate
When to plant
When to apply fertilizers
Provide pest management information.
The closer the climate station is to the operation, the more relevant the data becomes. For example, precipitation varies considerably over an area and the regional climate station at the nearest airport may not represent rainfall in your area.
Advantages of Connecting to Farmwest.com
Farmwest.com has negotiated a favourable price for the Vantage-Pro and ROM MicroCom communication package.
Daily data is collected and sent automatically and wirelessly. There is no need to physically go to each climate station, or download information separately form each climate station. Hourly data is stored in the Vantage Pro datalogger and can be downloaded directly from the climate station.
For municipalities or other organizations, the climate station data is collected remotely and available to the climate station owner automatically on the Farmwest web site. Farmwest can also transfer the raw data directly back to the climate station owner. The information is made available to members of your organizations or people within the community via an established web site.
The data will have a value added by being calculated into other values such as evapotranspiration (ET), Corn Heat Units (CHU) or T-sum calculator for fertilizer application. Other uses for the data are currently being explored and suggestions are welcome.
The calculated historical climate information, such as ET and CHU, is currently available on disk from Farmwest for a price. The information is sold to support the costs of operating the web site and purchasing data. This information will be available free to anyone who has a climate station connected to Farmwest. (Environment Canada (EC) temperature and precipitation data is not available but temperature and precipitation data from non-EC stations will be made available.)
Farmwest will post a notice of sponsorship (or advertisement) on all web pages showing the climate information comes from a particular climate station.
The Farmwest weather network is part of a water conservation initiative for more effective use of irrigation water. Better use of our water resources benefits everyone.
AAC Pilot Climate Station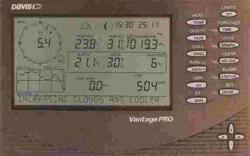 The climate station we have chosen for the Abbottsford Agriculture Center is a 'Davis Vantage Pro Weather Station'. The Vantage Pro climate station system is easy to set up and includes all sensors to collect the data required to calculate ET and moisture deficit. Data includes:
temperature
wind speed
relative humidity
solar radiation
rainfall
In addition, Davis Vantage Pro Weather Station also monitors and displays wind direction, ultraviolet radiation, dew-point temperature, barometric pressure and rate of rainfall, and has the ability to add other sensor, such as, soil moisture, temperature and leaf wetness. The Vantage Pro even forecasts the weather! The display console (Figure 2) can be located with the climate station or up to 150 m away (for the wireless option).
More information on Vantage Pro climate stations is available at Davis Instruments.
Approximate costs
| | |
| --- | --- |
| Wireless Vantage Pro Plus climate station | $2400 |
| Cabled Vantage Pro Plus climate station | $2200 |
| Wireless Vantage Pro climate station, add solar radiation sensor. Does not include UV sensor | $2100 |
| Cabled Vantage Pro climate station, add solar radiation sensor. Does not include UV sensor | $1900 |
All stations are supplied ready to connect to the ROM MicroCom (see the Communications Package for information on the ROM MicroCom). If ordered through Hoskins Scientific the MicroCom will be mounted in the console box.
Other Climate Stations
There is a possibility of linking other climate stations to the ROM MicroCom. To make this cost effective, a number of climate stations with the same specifications may be necessary.
The climate stations that have been setup or tested with a ROM Communications device are:
Davis Vantage Pro Plus
Davis Vantage Pro
Davis Gro-weather
If you are interested in linking your existing weather station to the Farmwest network, please contact Stephanie Tam at stephanie.tam@gov.bc.ca .  We will be keeping a list of interested parties and climate station configurations.
The Communication System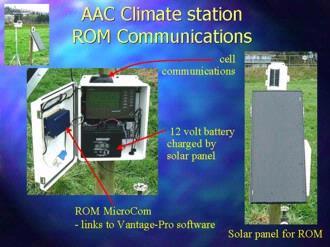 ROM Communications specializes in collecting and distributing data. The ROM MicroCom collects climate data from the climate stations and transmits it to the ROM server. Farmwest retrieves the climate data from ROM and calculates the climate indices to be displayed on Farmwest.
When investigating how new climate stations would be added to the Farmwest system, there was concern about how the data would be retrieved consistently for remote stations and transferred to the web site.
Other issues that needed addressing were having a number of stations trying to connect to Farmwest, downloading data at the same time and having inconsistent data formats.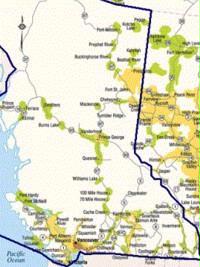 ROM's system of collecting and decoding the information, making all the data available in one format, and then sending them all at one time solved these issues.
The ROM MicroCom has currently been configured to work with the Davis Vantage Pro climate station. There is the possibility of adapting it to work with other climate stations. See Other Climate Stations
The ROM system uses no wires. This allows stations to be set up anywhere there is cell coverage (Figure 4) and uses solar power with a 12-V battery back up.
Approximate Costs
| | |
| --- | --- |
| ROM MicroCom hardware & antenna | $1030 |
| Solar panel, charger controller & mount | $700 |
| 12 V battery | $150 |
| Monthly transmission charges | $22 |
Responsibilities of being a part of Farmwest Climate System
The climate station and communication package is purchased by the operator and is the property of the operator. The communication costs would also be the responsibility of the owner of the climate station.
The information that is presented on Farmwest is used, but many other people throughout B.C. Because of this, the information needs to be reliable and accurate. The owner should be maintaining the station regularly and ensure that the station is operating properly. The rain gauges should not be obstructed, the station should not be sheltered or shaded and solar sensors should be regularly cleaned as specified by the manufacturer. Information on station location will be provided when a new station is being set up.
Farmwest will do some data checking and notify the operator if problems are detected. The owner should be willing to visit the climate station and examine the output to ensure high quality data.
HOW TO BECOME PART OF FARMWEST.COM
To get more information on becoming part of Farmwest.com please contact Stephanie Tam:
Email: stephanie.tam@gov.bc.ca
Telephone: 604-556-3113
toll free:  1-888-221-7141